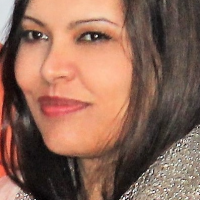 Adiela Akoo
Suspense, Supernatural Suspense, Romance, Literary Fiction, Science Fiction, Fantasy, Horror, Teen & Young Adult, Children's, Poetry, Advice & How To, Biographies & Memoirs, General Nonfiction, Cooking, Religion & Spirituality
Adiela Akoo was born on the 4th of May in Pietermaritzburg, South Africa, though mostly raised and educated in the neighbouring city of Durban, where she also received the prestigious Dux Award. Apart from writing, she has a background in banking and comprehensive healing, and in her spare time loves creating art and crafts using mixed media, reading, watching movies, playing scrabble and chess, creating in the kitchen, or chatting to the birds out in the garden, among other things.

She was nominated as one of the Top 7 'Most Promising Literary Influencers' in the GBC Awards 2020 and received the Silver Star Award from the Global Literary Society for her 'excellent contribution to world literature', among others. She was included in the Best Emerging Poets of 2019 series, the Best New African Poets 2020, has won poetry contests, and been published in a variety of journals and anthologies across the world. She has also represented the Durban Unesco City of Literature in collaborations with other cities of literature.

'Lost in a Quatrain', her deep, soulful, debut collection, was written over a period of 18 years and is a thought-provoking read on a journey to becoming, a journey of hope and healing. The poem "Whiplash" from the book was quoted in The House of Parliament and 'Pre Natal' was nominated "Poem of the Day' on the popular poetry platform, PoemHunter. Lost in a Quatrain was First Runner-Up for poetry in the South African Independent Publisher Awards 2021. Her second collection will be released in 2022.

As an ambassador of literacy, she volunteered her time in the position of Vice-Chair of Litasa, KZN – The Literacy Association of South Africa. She is also the Founder and Editor-in-Chief of the new literary journal, The Quilled Ink Review, launching in the coming year.

For more info visit: https://linktr.ee/Adiela.Akoo
Video
https://www.youtube.com/watch?v=Ncd6eGNwGfM
Poets are cut from a tender cloth that covers our world in beauty
Adiela Akoo
It is from the overflow of our cup that we give off our best to others
Adiela Akoo
A drop of PURE LOVE contains an ocean of transformative power ... never underestimate the ripple effect ...
Adiela Akoo
Poetry is intimacy between poet and reader it's revealing your truth and feeling safe acceptance in the unveiling
Adiela Akoo
I love listening to the sound of your heart beating, the comforting memory of a cuddling womb.
Adiela Akoo
I AM crazy and bold enough to think that I CAN change the world... one poem at a time...one heart at a time...
Adiela Akoo
Someone mentioned your name today, took me down memory lane, to a time very much younger, a time more pure, more sane.
Adiela Akoo
LOST IN A QUATRAIN is the state of being deep in thought, contemplative
Adiela Akoo
A whipping tongue scathingly lashes a false sense of power failing to reflect that a tongue portrays the character of its possessor!
Adiela Akoo
We cannot give to others what is lacking within us
Adiela Akoo
A scent on a breeze, a distant voice, a fated chance encounter, evoke memories my soul recalls, and yearns for me to remember, with gentle nudges unfolding in dreams, that long to wake me from slumber.
Adiela Akoo
You imbibe your associations. Those people you closely connect with ... the conversations you have... all profoundly influence your thinking and actions. You slowly become the sum of the people closest to you. Choose them wisely.....
Adiela Akoo
How Long? How long shall we wander through the scorching heat of this arid desert, yearning for a quenching drop from the cooling cup of the oasis? How long before all the tears we cry are enough, to turn the tide in this ocean we've bled dry? And how long before that Dove of Peace heals its broken wings, and finds a sprouting olive in this burnt forest?
Adiela Akoo
Look for the reflection of The Creator in every human being and in all of creation...
Adiela Akoo
This World comes like a lover courting but all a seeker sees is a hunter circling its prey
Adiela Akoo
Aloof you say? I'm so sorry if I made you feel that way. It's really not my intention, Though the reaction is of my own invention. You see, long ago I built a wall, A defence mechanism as I recall. So for me to draw close, is still very hard, After misplacing that important trust card.
Adiela Akoo
Look at me, what do you see? Can you read the message, emblazoned on my skin? Look at me, can you not see? The same Hand of Creation- we're kith and kin! Please look at me, and remember what you see, for I may be gone, by the time you choose to awaken...
Adiela Akoo
How shall we fill the cup of another if ours is empty? And how do we go about filling our cup? It begins with the self! Self care.Self love. Self development. Self discipline.Self knowledge... understand the world within, in order to understand the world without. Know thyself in order to know that which is greater than thyself
Adiela Akoo